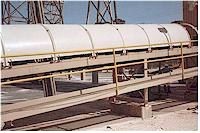 CHFG Conveyor Cover Series
RPS Engineering's CHFG-Series hood assembly has a full 180° coverage. These are great for a more corrosive atmosphere and are often used in the salt and fertilizer industries.
These are hinged and can be quickly and easily opened for inspecting or viewing the items being conveyed. They also allow for ease of repairing, replacing, greasing or inspecting of the idlers. They help to protect the belt, idlers and material being conveyed from the hot sun, wind, snow, rain and other damaging weather elements.
Our CHFG Cover Assemblies can be made for 18", 20", 24", 30", 36", 42", 48", 54", 60 and 72" belt widths. Custom sizes are also available.
Standard covers are made from white .090" thick fiberglass with bands made from 12 gauge, stainless steel. Type 304 is standard. The assemblies come with heavy duty stainless steel mounting foot brackets and a stainless steel retaining bar to hold the cover in an open position for maintenance issues. Standard fasteners are type 304 stainless steel.
Custom Molded fiberglass support bands are also available.
These assemblies can be made to accommodate 3' through 4' idler spacing with 4'-0" being our standard. If required, RPS can cut covers shorter for the special section(s) on your project.
Because RPS Engineering, Inc. manufactures everything to order, we are able to manufacture most custom dimensions that may be required for your specific project. Thicker gauges for our assemblies are also available for heavier loading requirements because –
AT RPS ENGINEERING, WE'VE GOT YOU COVERED!